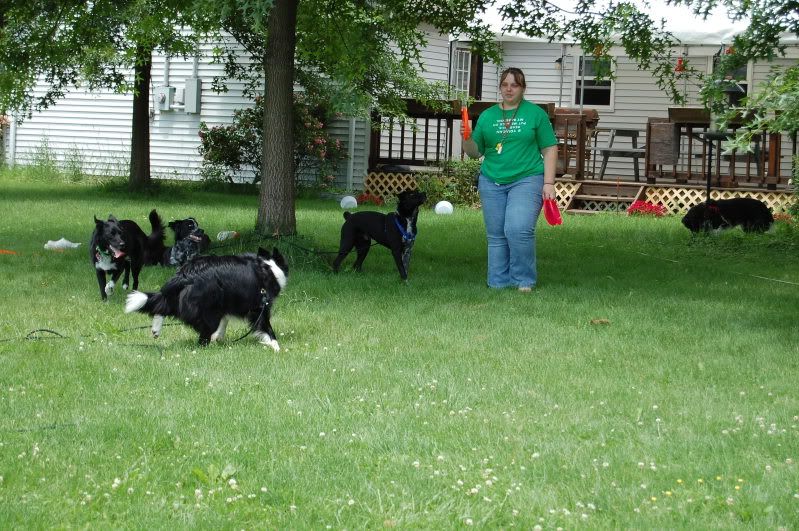 Hi! I'm the Mawm. My name is Alexis, i mostly go by Lexi. I am 24. I have 4 mutts and 2 cats. I moved back to my hometown in Northern Ohio and in with my parents in September 2008. We have a grand total of 6 cats, 5 dogs, 2 hedgehogs, and a Chinchilla.
This is just another blog for my dogs featuring the adventures of my four dogs Qwill, Shiner, Apostrophy ("Trophy"), and Baxter as well as their Cousin: Koda.
This blog is for me to hone my photography skills while
subjecting my dogs to lots of crazy things.
Err... I mean while showering my dogs with love and cookies. Yeah, that's it. Cookies. :)
Why Broken Butt?
Qwill and Shiner were both rescues and both have hip dysplasia. I lovingly refer to them as the Broken Butts! Trophy is my THIRD attempt at adopting a dog suitable for sports i.e. flyball, we'll see how his hips pan out when they're x-rayed.
My goals for 2009:
1. Get Qwill's CGC
2. Get Qwill certified as a therapy dog
3. Join the local dock diving club
4. Get 4 boys scootering together (up to three so far!)
5. Take a flyball class with Trophy
6. Train and compete in Rally O with Qwill
7. Get Shiner to do... something....
8.
Get a better job
DONE!
9.
Do more fostering
DONE (and cut off)
10.
Adopt another dog
DONE!!!